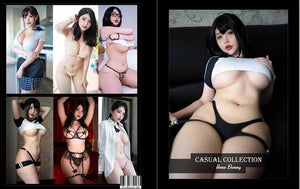 ONLINE PRE-ORDER ONLY OPENS FOR 24 HRS. FROM 12 PM OF 2/25/2023 TO 12 PM OF 2/26/2023 PST TIME.
Biggest photobook ever! With 111 pages! Pre-order customers will get 25% off
Hana Bunny's Casual Collection Photobook including all photos from:
- Housewife Bunny
- Sunbathe Bunny
- Fitness Bunny
- Step sister
- Discord Kitten
- Hangover Bunny
- Plumber Bunny
Including all additional bonus tier 5 spicy photos
Together to 111 pages on hard full colored pages.
Pre-order items will take around 2 weeks to be shipped out.